Online Baseball Games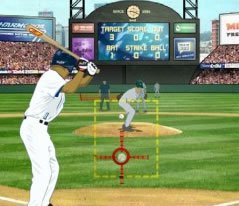 Ever since entertainment has taken a turn for the better and evolved through the help of computers, games have steadily solidified its reputation throughout the globe. These games incorporates not only make-believe ideas, but also other things that everyone are all too familiar with and one of them is Sports. When it comes to sports games, baseball has been one of the greatest targets of developers due to its exciting nature and of course, its popularity. Nowadays, there are even superb baseball games online that will surely be great pastime for any baseball and sports enthusiasts out there.
Through the power of HTML5, there are tons of baseball games online that's just waiting to be explored. One of the most raved cool baseball game in the internet is the Baseball Pro which can be found in lots of flash game sites such as AGames and Silvergames. Though the graphics of the game may not be as solid and crisp as games in consoles, the gameplay of this astounding game will surely immerse you and keep you captivated for a long time. Test your skills and earn your team as many homerun as you can and pave your way to the top.
There are also other games that are more kiddy-like such as Pinch Hitter 2 and the Baseball. These games will test your skills in aiming and your patience in timing out your hits. Can you click at that right moment and make the ball fly for a home run? There's no doubt that you'll surely enjoy and be excited playing these games that will grant you honor and victory as long as you do it right.
If you love batting game like the Pinch Hitter, you'll also love the ESPN Arcade Baseball that will take you to an extremely immersive batting game you'll surely want to play to over and over again. There are two modes on this game which are the Precision Hitter and the Bottom of the Ninth Mode. Just as its name implies, Precision hitter will test how well you can aim your strikes and with the help of your mouse and the system, you'll surely be able to have more fun than you may initially imagined. The Bottom of the ninth pertains to that moment where the batter is 2 runs down and it's up to you to make a comeback for the team. These games will show you just how simple, yet extremely exciting and fun baseball games online can be.